Child support when unemployed – general determination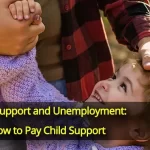 Child support when unemployed is one of the frequently arising issues during divorce or paternity proceedings. Before discussing this topic let look how child support is determined in California. Under family Code 4050  child support is governed by the Statewide Uniform Child Support Guideline.  Absent special circumstances, California courts must adhere to the statewide uniform guideline when determining the amount of child support amounts. This statewide guideline applies to pendente lite child support orders, "permanent" child support orders, and any modification of an existing child support order.
The algebraic formula for calculating guideline child support is found in Family Code 4055.
Child support when unemployed – bases for calculation
The key element of the algebraic formula set forth in this is each parent's net monthly disposable income
The income of each parent means income from whatever source such as any of the following:
Income such as commissions, salaries, royalties, wages, bonuses, rents, dividends, pensions, interest, trust income, annuities, workers' compensation benefits, unemployment insurance benefits, disability insurance benefits, Social Security benefits, and spousal support actually received from a person, not a party to the proceeding to establish a child support order Income from a business proprietorship, such as gross receipts from the business reduced by expenditures required for the operation of the business.
At the discretion of the court, employee benefits or self-employment benefits, taking into consideration the benefit to the employee, any corresponding reduction in living expenses, and other relevant facts.
Child support when unemployed – imputing Income Based on Earning Capacity
Avoiding or reducing child support is a bad idea by intentionally reducing your income.
When the court determines income available to pay child support from employment, it is not limited to a parent's actual income. The court may, in its discretion, consider the earning capacity of a parent in lieu of the parent's actual income, consistent with the best interests of the child or children, taking into consideration the overall welfare and developmental needs of the children, and the time that parent spends with the children.
The strong public policy in favor of providing child support has led to an expansive use of the earning capacity doctrine in setting the level of support when applying that doctrine is consistent with the child's needs.
In Regnery, the court found that it is proper to impute income from work to an unemployed or allegedly underemployed parent when the parent has (1) the ability to work (taking into account factors such as age, occupation, skill, education, health, background, job experience, and qualifications), and (2) an opportunity to work (an employer willing to hire), but (3) lacks the willingness to work consistent with ability and opportunity.
A party seeking to impute income to a parent has no obligation to show that the parent would have obtained the job on the basis of which the income is to be imputed. Rather, the party opposing the request must show that he or she lacked the ability to find employment, or despite reasonable efforts, there was no opportunity for employment at the level requested.
Child support when unemployed   – Physical or mental examinations.
In cases in which one party claims an inability to work because of physical or mental illness, the court may, on noticed motion, order that party to be examined by an expert to determine the truth of such assertions. When the mental or physical condition of a party is in controversy in the action, any party may obtain discovery by means of a mental or physical examination of that party. A mental examination may be performed only by a licensed physician, or by a licensed clinical psychologist who holds a doctoral degree in psychology and has had at least 5 years of postgraduate experience in the diagnosis of emotional and mental disorders.
Child support when unemployed   – Incarcerated Parents
An incarcerated parent is subject to the same earning capacity test as any other parent. Thus, the court may not impute income to an incarcerated parent unless he or she has both the ability and opportunity to earn income while incarcerated. A court may not impute income to an incarcerated parent based on the fact that he or she worked before incarceration and will likely return to work on release. Similarly, a court may not impute minimum wage to an incarcerated parent unless the evidence shows that he or she can earn minimum wage while incarcerated.
Under Family Code 4007.5 (a) absent certain exceptions, every money judgment or order for support of a child shall be suspended, by operation of law, for any period exceeding 90 consecutive days in which the person ordered to pay support is incarcerated or involuntarily institutionalized. The child support obligation resumes on the first day of the first full month after the release of the person owing support in the amount previously ordered.
Child support when unemployed   – Deliberate Efforts to Conceal Income
A parent's gross income as stated under penalty of perjury on his or her income tax return is presumptively correct for purposes of the calculation of child support. However, the presumption of correctness is rebuttable, and evidence can be introduced to demonstrate that the information on the tax returns is incorrect. Thus, a parent may prove that the other parent has either failed to report or underreported income on his or her tax returnIf the court finds that the reported income is inaccurate, it can either (1) include the unreported income in annual gross income, or (2) find that there are special circumstances under Family Code 4057 and deviate from the guideline calculation.
Child support when unemployed    – Voluntary Change to Lower-Paid or No Employment
Courts may impute income to a parent who voluntarily changes his or her employment to a lower-paying job or to attend school. In the case of Marriage of Ilas, for example, the support obligor quit his job to enter medical school. The trial court stated that child and spousal support constitute a priority expense that must be paid first before other expenses, and that the payer "did not have the right to divest himself of his earning ability at the expense of  Mrs. Ilas and his two minor children."
Similarly, when a support obligor quits a job to start his or her own business, a court has the discretion to impute income at a level consistent with the obligor's previous employment income.
One appellate court has held that, on remand, a lower court may consider whether to impute income to a former spouse who relocated to an area of the state with lower-paying jobs.
A parent's motivation when he or she changes jobs may be relevant to a court's decision about whether to impute income.
714-390-3766