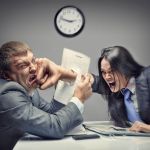 DIVORCE MEDIATION TIPS will help you to increase your chances of success in mediation, make the process more smooth, efficient, and fast.
Tip #1 from  our divorce mediation tips list – BE EDUCATED, BE INFORMED
The far more critical mediation tip to keep in mind is to educate yourself about the process. If you do not understand what mediation is and how mediation works until you step into it, your chances of success might not be too high.
There are different types of divorce mediation. One of the most common is the process in which a neutral party is facilitated negotiation between spouses to resolve divorce issues and come to an agreement. We have discussed in more detail what is mediation in general on the what is mediation page and what is divorce mediation on the divorce mediation page.
Before you go to mediation, consult with an attorney. You should be aware of your rights and duties. This implies you'll have to figure out how your community property should be divided. You should also be aware of whether you or your spouse could be entitled to spousal support or child support. You should also be aware of how the state of California calculates alimony. If you do online research for your specific divorce issues, be sure to read the California Law articles only.
Tip #2  from  our divorce mediation tips list – PREPARE YOUR FINANCIALS
It is important to have a straightforward and correct picture of what you and your spouse/partner possess jointly and what you have separately. It could make an enormous difference in your divorce if you've been together for a long time. Be sure your financial statements are organized each account has information with savings, checking accounts. Be sure to have your insurance policies, retirements, annuities, stocks ext. You must know your credit card debts and other debts you have from different institutions. Although it is not easy to forecast your life, it would be also helpful to estimate your basic needs expenses.
Tip #3 from  our divorce mediation tips list – KNOW YOUR CONCERNS AND MAKE A FLEXIBLE DECISION
Place the whole of the worries on the board. It's suggested that you do this on paper. You will not get everything you would like in the divorce, regardless of how great you have been at negotiating. You'll need to make a sacrifice. So, once you begin bargaining, figure out that whatever really would and wouldn't want. What is the safest result you might get in the trial if something works in your favor? What is the worst outcome you could expect in the trial if something goes against you?
Tip #4 from  our divorce mediation tips list  – BE RATIONAL, NOT EMOTIONAL
A divorce is an emotionally draining process. Despair, rage, and regret over the divorce are normal and reasonable emotions to experience during such a difficult time. They assist you in healing and recovering from your loss. However, when attempting to reach a divorce agreement, such feelings may be harmful. Mediation is a method that is based on rationality. Planning for relaxing the mind before entering the room is the safest option to approach things during a mediation process. Being calm, taking a deep breath, and counting to seven before responding is an easy strategy that can be used when you sense like getting provoked by the partner. It is indeed a case of keeping the objective in mind. The parties must be prepared to put certain feelings aside to reach a realistic and fair agreement. A desire for vengeance, unreasonable expectations, and a desire to delay the settlement would put mediation at risk and reduce your chances to settle the case.
Tip #5 from  our divorce mediation tips list  FIND A SUCCESSFUL DIVORCE MEDIATOR
The last divorce mediation tip recommends an experienced mediator with successful experience in his/her previous mediation sessions. The good mediator should have a mediation certificate as well as an attorney license. You should also put into consideration how many cases your attorney-mediator settled. If your potential mediator has a high percentage of the settled case, it is a great sign because she/he cares about efficient and productive resolution instead of draining her client's money on attorney fees.
Angela is a certified mediator and a licensed attorney with 86% of her cases settled before the cases came to trial.
Call today for free case evaluation at714-390-3766