What is estate administration?
what is estate administration
Estate administration is the process of collecting, distributing, managing the deceased person assets, and settling his debts
California sets up the process for distributing the assets and paying off the debts of a deceased person. Regardless of whether you have a will or trust, there are requirements for distributing assets and settling debts. Listed below are some common topics you should know about estate administration law.
The first step in estate administration is to contact a qualified attorney. A proper type of attorney you will be looking for is an estate planning and probate attorney.
Estate is the properties left after the person dies. Generally, in order to inherit or transfer  property after someone dies, the relatives of the deceased should  go to court
At the beginning of the process, your attorney needs to find what assets a deceased person has, how the asset is titled, what debts the deceased has.
Estate administration – is there a trust or a will in place?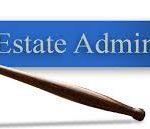 At the first step of your estate administration, it is important to know if there is a trust or a will in place. If the deceased had a trust, your attorney would proceed with the trust administration process. If the deceased left the will, the properties will be distributed according to the will. Otherwise, the estate will be distributed according to the law of intestacy. The surviving spouse and children are the first into consideration and then move on to more distant relatives.
The next step is to ask if probate is necessary.  As of January 1, 2020, if the deceased estate consists of assets in excess of $166,250 a probate might be necessary. You definitely don't need probate if you have a trust and the trust is properly funded -all the properties in the trust.
The next thing is to find out who is representative of the estate. If the person left a will, the representative – the executor named in the will.
Estate administration – a simplified procedure available
If you have a relatively small estate, consider using the California Small Estates Procedure, there's a simplified procedure available.
When you consider estate administration, it is important to keep in mind that there are some types of property that pass outside of the will and the probate process. For example,  the property that's titled as joint tenancy with right of survivorship, retirement plans, life insurance, and assets that have beneficiaries passing according to forms the person filed with a plan administrator.
call TODAY for case estimate 714-390-3766