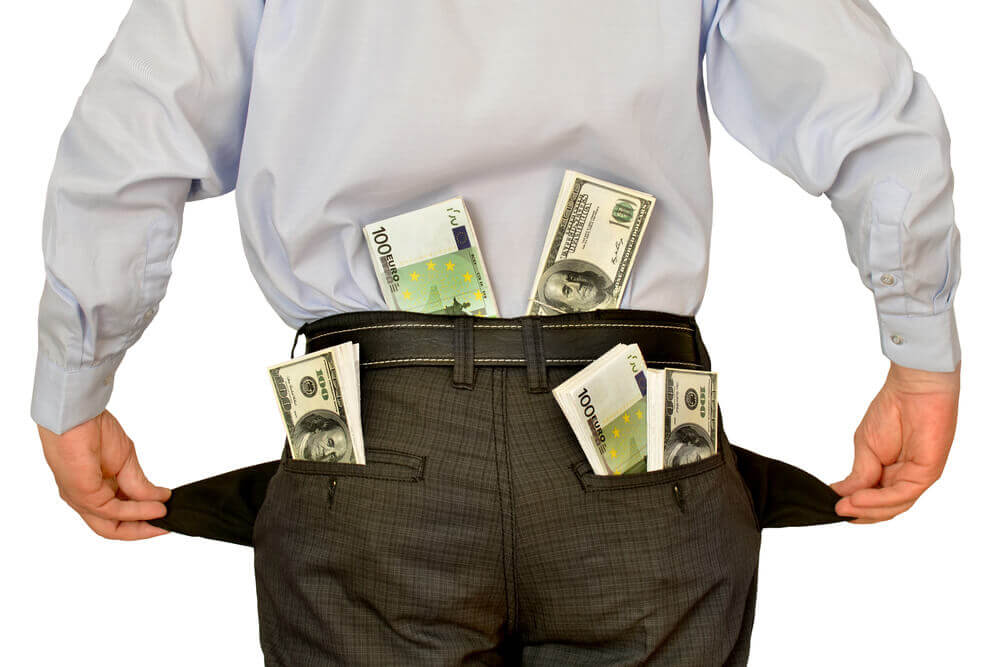 Hiding assets in divorce is not that uncommon.  Although divorcing couples are required by law to openly disclose all their assets (including income, expenses and debt), many people lie or cheat in order to keep at least a portion of those assets solely for themselves. They use a wide range of methods to hide, understate, undervalue property.
Lying during divorce proceedings is illegal
The rules of civil procedure ensure that when someone signs a court document, they are agreeing that the document contents are true to the best of their knowledge.
When your spouse signs the financial disclosure forms  –which is required in every contested (and even in uncontested) divorces –they are swearing, under penalty of perjury, that they are telling the truth about their finances and disclosing all their assets, liabilities, income and expenses. (such as they must disclose the stock options they were granted by their employer even if no one specifically asked them if they had stock options)
What can happen if some lies about income or assets?
When someone lies under oath, they can face serious consequences. Penalties may vary from state to state (and from case to case), but in general, the law empowers the courts with a variety of different remedies for contempt of court. Such as, if your spouse knowingly violates asset disclosure laws, a judge could order them to pay your attorney fees and/or fines. Or, they could even be subject to a dismissal of his claims. In the most serious cases, your spouse could even face incarceration.
If one spouse hides community property assets, the court can award this asset to another spouse. Back in 1999, a Los Angeles family court judge ruled that a woman had violated state asset disclosure laws because she neglected to reveal they had won $1.3 million from the state lottery just 11 days before filing for divorce. The judge in this case determined that the wife had acted out of fraud or malice, and the awarded all the winnings to the ex-husband.
California is a community property state.  Thus, one spouse would have been entitled to get half of the lottery winning if the other spouse had properly disclosed it. In this case instead of half of the winning, the husband was awarded all the money.
In another case, a husband in Michigan deliberately hid their assets during the divorce's primary trial period. When assets were later found after the divorce was finalised, the court reconsidered the property division and eventually awarded the wife all the discovered assets.
How can an attorney help if your spouse is hiding assets in divorce?
If you suspect your spouse could be hiding assets, tell your divorce counsel about your concerns.
Attorneys have an ethical obligation according to the law which states that they licensed with to discover all the information about how to help you with your case;
this is important because it ensures that you will get someone who is well informed on the topic and can help you with your case and make sure your spouse is not hiding assets in divorce or anything similar. Even if you do not know all information about the property of your spouse, you will still be an important part of the case as you still may be able to answer many unanswered questions which can be used for exploration. Also, if you cannot afford an attorney, you can order the court to pay from community funds or from the separate income or assets of the other party. Family Code allows the awarding of the costs and fees necessary to permit a party to litigate properly. Under Family Code 2030-2031 and CA Code of Civil Procedure.  award may in some cases include funds for accounting services, private investigators, and appraisers.
You may also put a lien on real estate, which is good if the attorney is willing to wait to receive fees and the client is eager to sell the property. Though a Lien can be rejected if the court believes that it can cause unequal distribution of property. The court may also limit a lien if it is for a good cause but such a limitation may not be considered reasonable attorney fees. You may want to hire an "expert" if you want to have better luck of investigating to see if your spouse is hiding assets in divorce and to then report them to the court.  A FLARPL is what handles the awarding of community assets and how you would help stop your spouse from hiding assets in divorce, as some of the assets your spouse is hiding in divorce may be community property depending on the types of assets.
You attorney can also hire a private investigator who can investigate the hiding of assets in divorce and provide evidence for your spouse's attempt hiding assets during divorce .
In formal discovery your attorney will request all the information from the other party to be produced under penalty of perjury because he or she doubts the veracity and completeness of the information. The deadlines and possible sanctions associated with a failure to comply with formal discovery may be the necessary incentives to provide information when a party is reluctant or unwilling to reveal financial information or an attorney is too busy or too inefficient to respond to informal discovery requests.
The complex discovery techniques such as depositions, deposition subpoenas, and private investigators should be used in proportion to the size and complexity of the estate and the difficulties in obtaining information. It is possible to use more expensive discovery techniques in moderation such as gathering as much information as possible before taking a deposition can greatly diminish the cost of the deposition—as opposed to using the deposition to gather all information.
If a client's spouse is hiding assets in divorce in foreign countries the discovery will become more complex. The involvement of  attorneys from the countries where the assets are hidden will be required.
If a spouse discovers fraud in the declaration of assets after the final judgement has been issued, he/she may petition to reopen the divorce settlement which might result in penalties to the spouse hiding assets.
call 714-390-3766 for FREE case evaluation