How Much Does a Divorce Cost? – CONTESTED VS UNCONTESTED
How Much Does a Divorce Cost depends on whether it is a contested or uncontested divorce. Uncontested would be significantly cheaper. The cost of uncontested divorce discussed on the page Frequently Asked Questions.
How much does a divorce cost depends also on which how would you decide to go with the process.
How much does a divorce cost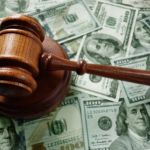 The answer depends on many factors. If you have an uncontested divorce you can find an attorney or paralegal to complete it for $800, not including filing fees. Contested can run between $5000 and 50000. It would be higher if you have a child custody dispute, child and spousal support, property division.
If you decide to have an attorney on record, you should be ready that most of the law firms in family law practice charge by the hour. An attorney's price per hour can range from $150 – $500. The number of hours necessary for a divorce can be between twenty and hundreds hours. Judge James W. Stewart in his book "Divorce Handbook for California" is explaining why extended litigation with its multiple depositions, motions, experts, and telephone calls will exact unbelievably high financial tolls, regardless of your wealth. Discovery alone, in a routine case, can cost more than $50,000. Fees for time in court for various motions and preparation for these appearances will cost approximately $5,000 to $21,000 per motion.
It does not mean that your attorney charges you for something unnecessary. The discovery is complex and time consuming process. However, it is provide important and valuable information in order to determine your rights and obligation.
You will be charged for calls, emails, texts, court preparation, in-person meetings, depositions, research and findings, paper preparation, and revision.
How Much does a Divorce Cost MINOR CHILDREN CUSTODY DISAGREEMENT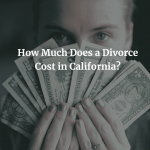 How Much Does a Divorce Cost depends on whether you have child custody disagreement. Generally, divorces become quite expensive in case of high conflict child custody dispute and one or both parties are not willing to cooperate.  In a contested divorce, where it is unlikely or impossible to reach an agreement on child custody, the court will allow a child custody evaluation to be performed by an expert psychologist. The psychologist interviews the parents, kids, and observes the kids with each of them while at home. The evaluation costs from $1,000 – $2,500, if the evaluator works for the county. Otherwise, private evaluators charge $10,000 or higher.
How Much does a Divorce Cost depends on whether you have a business or multiple businesses.
Divorces get a whole lot complicated and expensive with businesses evaluation. If the flow of income and expenses is in issue, the court will order forensic accounting.  Forensic accounting is very time-consuming task involving an expensive expert- forensic accountant. It is likely to elevate the couples' divorce expenses.
How much does a divorce cost if the spouses dispute the interest in real estate property?
Assuming you and your spouse have house or condo or multiple real estate properties and down payment was made with the separate property source. If you have a dispute of how to divide the proceed from the sale of this properties, your attorney might spend a significant time in calculation the interest of both spouses in real estate.
How much does a divorce cost using a limited scope attorney.
If you are unable to afford a full-scope divorce lawyer, it's always a good move to seek out help and legal advice in order to protect your rights in any settlement agreement. You can hire a consulting lawyer for jobs. For example, assisting you to understand and complete divorce forms, drafting and reviewing a proposed settlement agreement, and representing you during court appearances, etc. This is a cheaper professional alternative to choose from; it not only saves money but also ensures you are aware of the necessary steps. The total average rate for consulting attorneys is from $3,000 – $5,800.
How much does a divorce cost using MEDIATION

Divorce mediation can be a great option if you do not want an attorney and your spouse is open to consider a divorce mediation. Mediation is a settlement process by divorcing couples with the help of a qualified divorce mediator.
A mediator will assist the couples for arriving to an agreement regarding finance and other matters concerning their future. Mediation takes a shorter  time than litigation and is much more economical compared to the expense for an attorney. A divorce mediator makes it easy to communicate and negotiate into a reasonable decision for both spouses. In cases where children are involved, mediation can be very useful as well. If the mediation occurs without any complications, couples are no longer required to appear in court.
You can read about the mediation on our website pages.
Very often clients are surprised that an attorney's bill is coming so high. They do not realize that when they are calling and talking with their attorney on the phone about his/her case, it should not a private time you have with your friends, Each attorney has in average 10-15 on-going cases and if each client would spend only an hour talking about his/ her case for free, any lawyer will be out of the business.
If you would like to minimize your expenses going through your divorce, you should put aside your emotion and discuss with your spouse a possibility to make your divorce uncontested. I can help you with that. I am an attorney as well as a certified mediator. Unlike other mediators who charge for a divorce between $2800 and $9000, I charge for the mediation below $900. If you don't need a mediation, I will complete your uncontested divorce process from the beginning to the end for $799 if you have minor children and $699 without minor children.
CALL TODAY 714-390-3766