Probate documents – introduction, the purpose of probate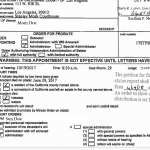 Before discussing probate documents, we would like to make an introduction about  the Purpose of Probate
The main purpose is safeguarding the decedent's assets, paying creditors, and distributing such assets to the heirs.
We have discussed what is probate on this web in the California Probate section.
To remind – probate is a court-sanctioned process that allows the transfer of the decedent's property to the living heirs.
If after the person's death, the decedent's properties need to be sold, the deed should be signed by a court-appointed Personal representative.
Personal Representative has the legal authority to transfer the property to the buyer, clearing the title through the probate
After selling the house, the money is used to pay creditors, tax, attorney fees, court filing fees, attorney's fees.
Probate documents Real Property in Small Estates
There are different Probate documents for the different values of the real estate.
If the value of the real estate is $55,425 or Less you can use Form DE-305 Affidavit RE Real Property of Small Estate. You will also need to sign the Inventory and Appraisal (Form  "DE-160") under penalty of perjury stating the value. If there is already a probate proceeding to administer estate the procedure cannot be used.No hearing is required for this process.
For real property with a value between $55,425 to $166,250, the probate documents include DE-310, "Petition to Determine Succession to Real Property" which needs to be filed at least 40 days after the date of death. There is some requirement that no probate should have been conducted in CA forthe administration of the estate. However, unlike the other procedure, there is a court hearing. This process would take longer 2-4 months to be finished.
Probate documents Commencing Probate
The Probate Petition – Judicial Counsel Form DE-111Probates documents start by filing the Petition for Probate Form DE-111. The filing fee is $465. If the heirs are receiving government assistance, for example, SSI, Medi-Cal, Food Stamps, etc.) the next set of probate documents will be fee waiver forms.
The court hearing will be set in  30 days after filing the petition. The first hearing could determine whether the Petitioner will have limited or full authority
After the judge approves the personal representative, the next step in probation documents preparation is DE-140, Order for Probate.
One of the important forms among probate documents is DE-160 Inventory and Appraisal
Another important document is a notice to the creditor. If there is an attorney handling your case, the personal representative needs to provide his attorney information of any creditors he/she is aware of including medical bills, credit card, and tax liabilities, ext.
The notice must be also given to these state agencies:
1. California Franchise Tax Board
2. California Department of Health Care Services
3. California Victim Compensation and Government Claims Board
4. Employment Development Department
5. State Board of Equalization
The last petition to probate should be filed with some additional probate documents such as account and report for administration, reimbursement of cost advanced, ext
714-390-3766