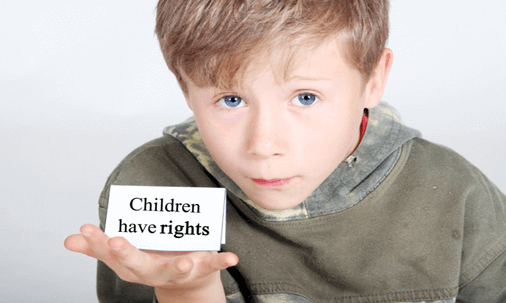 Children's Rights in Divorce material presented in this blog has more psychological aspects handling divorce with children rather than legal. This article is not written as an opinion and not intended to provide legal advice.
There are many Children's Rights in Divorce. One of these rights is the ability to establish independent relationships with either parent. The aggrieved parties should refrain from limiting their children's communications with the other parent.
Another right is the ability to be left out of conflicts between the parents. Both parents must support each other in raising their children in love and respect even though they no longer stay in the same. It can be devastating for children who do not want to be involved to be in the middle of this kind of conflict thus, it is a violation of Children's Rights in Divorce.
Children should be able to form an opinion on either parent without forced intervention from either parent. No matter the feelings the parents have for each other, their personal feelings should not get in the way of finding the best option for the child. Forcing your child to take sides against the other parent will be a violation of children's rights in divorce.
Every child should have the option to choose how they want to be taught, guided, disciplined, nurtured, or supervised by either parent without any unnecessary interference from the other parent. Neither of the parents are allowed to stop their children from enjoying the guidance and tutoring of the other parent. With the provision of children's rights in divorce, an act of that nature can be considered illegal by the law.
Children should enjoy financial support from both parents, regardless of how much time  child spends time with each of them individually. Just because the court has decided that the child stays with one parent does not mean the other parent will not have any responsibility for helping with the child's financial needs and upkeep. That is one of the requirements of children's rights in divorce.
Children should be allowed to spend quality time with either of parents regularly during holidays and events, regardless of the financial support they give to the child.
Every child is qualified to have their private space in any of their parent's homes. Your child is not to be denied their private space, especially if they don't want you to.
The safety of every child should be adequately insured, and their activities are to be supervised by the parent whenever they are with either parent. According to the children's rights in divorce, the parent in the custody of the child at any given time is the one responsible for the child's safety at that given time.
Every child should have the option to be kept safe from people who are heavily influenced by illegal drugs or alcohol. As a divorced parent, you cannot afford to expose your child without consent to someone who is struggling with drugs or any other substance abuse.
Children should have the option to be enrolled in a consistent, stable, and responsible child care program anytime they are not under the supervision of their parents.
Each child should be allowed to establish meaningful relationships with other people such as step-parents, grandparents, and other family members, on the condition that the said relationship doesn't interfere with the child's primary relationship with their parents in a way that violates the children's rights in divorce.
Both parents should be told about their child's dental, medical, educational, legal, and extracurricular matters, under the condition that such disclosures won't cause any harm or violate the children's privacy in a way that violates Children's Rights in Divorce. Children's rights in divorce allow the parents to be informed about any relevant information they need to know regarding their child to the extent that it does not violate the privacy of the child.
Every child should be free to take part in age-bound activities, with the assurance that such events don't cause any harm that the child may not know about. Using your authority and influence as a parent to forcefully stop your children from participating in age-bound activities, is an act that contradicts children's rights in divorce.
Every child with any form of special need like physical, mental, emotional, or developmental is free to appropriate adaptation and consideration regarding a suitable child care plan which they can agree to.
Call 714-390-3766