What is a divorce with agreement?
A divorce with agreement is uncontested divorce or an amicable divorce . Both spouses come into agreement with all issues of the divorce- properties division, child custody/support, spousal support.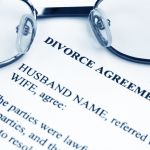 Divorce with agreement is a necessary component of an uncontested divorce. Due to the many downsides of a contested divorce, a divorce with agreement is the optimal choice for most couples. It saves time, money, and is the best way to make decisions you are most care about without a judge's involvement. There is no need for a trial, and both spouses are satisfied with all issues of the divorce.
Each issue of the divorce should be set out in this agreement, including the division of property and finances, child custody/child support, and spousal support.
A divorce settlement agreement can be difficult to draw up, especially for couples who are struggling to communicate amicably. But if you're able to produce a division of assets both parties can agree on, the benefits of uncontested divorce will be worth it. 
How do you reach an agreement?
The easiest (and cheapest) way to reach an agreement with your spouse is by talking with them directly. However, it is recommended that you consult with an attorney before making any big decisions on your agreement, to ensure your agreement will be fair to you. You will also need an attorney to draft your written agreement because the specific legal terminology must be included regarding each issue of the divorce. It can be difficult to fulfill the legalities of an agreement, which makes it valid in the eyes of the court. Even a small error could result in a much longer and more expensive divorce, even though it's uncontested.
Mediation
We understand not everyone will be able to reach a divorce settlement agreement with their spouse, and there are plenty of other ways you can do this with a third party. Your lawyers will be able to help you discuss your agreement terms with your spouse, and your spouse's lawyer.
It's also possible to work with a mediator. In terms of divorce with agreement, a mediator is a specially trained third party hired to help a couple reach an agreement. They don't make any decisions for you, but instead help you discuss the terms of your divorce amicably with your spouse.
Our attorney is also a certified mediator and has an excellent history of settling the cases fast and easy.
Are divorce agreements legally binding?
For a divorce agreement to be legally binding, there are a number of criteria that must be fulfilled. In addition, it must be filed with the court.
It can be very easy to make an error on your written settlement agreement, and this can result in a drawn out divorce, or further legal action. Also, there are a lot of special legal terminology must be included in order to be accepted by the court. To ensure your settlement is legally binding, and your divorce with agreement is valid, we recommend seeking the guidance of a  divorce attorney. An attorney will have the essential knowledge of California requirements and the law to draw up a valid agreement. 
What is a prenuptial agreement?
Many couples will already have a written agreement, drawn up before their marriage, called a prenuptial agreement (also called a prenup, or premarital agreement). This sets out the terms of the divorce in the same way as any agreement. The only difference is the time it was drawn up.
Prenuptial agreements must be drawn up in writing, and must adhere to the same legalities as other divorce settlement agreements. However, unlike post-marriage agreements, there are some divorce terms that cannot be included in a prenuptial agreement, including:
Decisions on child support, custody, or visitation
Any decisions on spousal support (including a waiver) which could be deemed unfair at the time of divorce
Anything that encourages either spouse to file for divorce

Can divorce agreements be changed?
In the case of a divorce with agreement, it is rare that a spouse will apply, and be permitted, to alter their settlement. It is possible to do so, but only in certain situations. Both spouses need to sign a stipulation if they would like to make a change after the court order.
Usually, spouses will only be able to make alterations to their divorce settlement agreement if their circumstances have drastically changed. If this is the case, they may be permitted to alter the court's rulings on:
Child support, custody, and visitation
Spousal support

Can you appeal a divorce with agreement?
It is almost impossible to appeal an uncontested divorce with agreement. In some very rare cases, it can be done. You would have to prove that you signed the agreement without fully understanding it, or in error.
714-390-3766