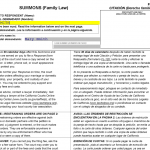 FL-110 is one of the most important forms in a divorce proceeding. If a person wishes to initiate divorce proceedings, he/she needs to serve their spouse with a form FL-110. This provides the spouse with some information and confirms that they are aware of their marriage's dissolution. In this blog post, we'll guide you through the divorce form FL-110.
This form may seem very long and complex, but this isn't the case. FL-110 is one of the easiest forms to fill out. However, you need to understand everything in this form very well in order to comply with important divorce policies. As half the form is in Spanish, it looks longer than it actually is. Most of this form consists of reading and doesn't require much filling in.
What is form FL-110?
Form FL-110 is a Summons that starts off your divorce or separation. It is filled in by the petitioner and served to the respondent.
What is form FL-110?
How to fill out form FL-110, Page 1
At the top of page 1, you fill in the names of the petitioner and respondent in the appropriate boxes. If you are filling in this form, you are the petitioner, and your spouse is the respondent.
In this section, there's a box which states "You have been sued." This is a note to the respondent, but don't worry. All divorces are lawsuits, and this notice isn't as scary as it might seem.
The following 3 boxes contain information for the respondent. They let the respondent know:
They must file a form FL-120 Response within 30 days of being served the Summons and Petition
What may happen if they fail to do so
Where they can find an attorney
Certain restraining orders have been put into place
How to obtain a fee waiver form
Below these boxes, you'll fill in item 1 – the name and address of the court. You should include the:
Name of the court
Number and street name
Town/city
State (CA)
Zipcode
Then we have item 2 – the name, address, and telephone number of the petitioner's attorney, or the petitioner without an attorney. If you're filling this out yourself, you are the petitioner without an attorney.
Once again, include your name, street address, town/city, state, and zip code, along with your telephone number. This doesn't have to be your home address, just an address the court can use to contact you.
The date and signature at the bottom of page 1 of FL-110 will be filled out by the court clerk.
Important information to be aware on Page 2 of FL-110
Page 2 contains a lot of information, so make sure you read it carefully. The topmost box concerns standard family law restraining orders. These are also called automatic temporary restraining orders, or ATROs.
These are not like the kind of restraining orders you may hear about on TV, on the internet, or in the news. You are allowed to move freely, however, there are some actions you must not carry out.
These restraining orders are there simply to protect both spouses and any children. They prevent either spouse from 'lashing out' at the other party or trying to make the divorce unfair.
Under these orders, neither you nor your spouse is permitted to:
Remove your child from the state without the other spouse's consent
Alter insurance policies or any other coverage
Transfer or conceal any property
Create or modify nonprobate transfers without the other spouse's consent
Either spouse must notify the other spouse of any extraordinary expenditures at least 5 business days before incurring the expenditures. However, each spouse is permitted to use community property to pay for attorney's fees or court costs.
Violating any of these restraining orders may count as being in contempt of court, and can result in a fine or prison sentence.
The second box on page 2 concerns access to health insurance. If you are currently covered by your spouse's health insurance policy, this will end once your marriage is terminated. Covered California was established under the Affordable Care Act, and this notice lets you know you may be eligible for cover.
The final box on page 2 of FL-110 tells you about what happens in the event of a death. If you or your partner dies before a divorce judgment is entered, you are still married in the eyes of the law. If either party dies without a will (i.e. intestate), all their property will go to their spouse.
If you wish to prevent this from happening, you are free to create a will. However, as set out in the above restraining orders, you cannot modify a will that already exists.
That concludes all of our form FL-110 instructions. In order to file the first set of documents for your divorce, you will need to fill FL-100, local form OC form Notice of related case (if you are in Orange County) and the Declaration under UCCJEA form FL-105 (if you have minor children).
714-390-3766
You can download FL-110 from the Superior Court website