Is my marriage falling apart?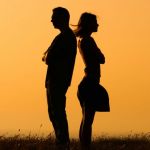 Is my marriage falling apart?  – frequently arising in people's mind question. Unfortunately, marriages are not always as happy as they seem to be. Many people are admitting to not being happy in their marriage and almost half of the marriages are ending in divorce
When you ask yourself "is my marriage falling apart?" your idea of falling apart may be solely on your end and everyone around you may see your relationship as successful and happy. Some of your relatives and friends might think you have unrealistic expectations from the marriage and these issues can be solved by discussing the problems with your spouse or family therapist. Perhaps there might be a way to improve your marriage instead of breaking it apart, especially if you have minor children. You should put them into consideration so many issues before considering filing for a divorce.
Here are some of the top signs look for in answering the  question "is my marriage falling apart?":
Is my marriage falling apart if I don't like what my spouse does?
Often spouses may complain to their other spouse about how they spend too much time on the couch watching TV, play video games too much, does not have a dissent job, inviting friends over too much, staying in his/her parent's house too much partying or many more things. Conflicts like these can make spouses dislike each other. Is my marriage falling apart because of this? There is different answers for a different couple. If your spouse is willing to change the activities that you don't like in commitment to saving the marriage or willing to accept whatever he is doing would not drain your energy – perhaps there is a possibility to save your marriage.
Is my marriage falling apart if there is a Lack of Physical Intimacy and/or adultery?
Lack of Physical Intimacy can often be the cause of conflict in marriage. Adultery is a more serious reason.  Less than 20% of marriages survive adultery. Adultery can create hate for the other spouse making your spouse feel neglected or not good enough and can cause jealousy. This can also lead to trust issues in the future.
Is my marriage falling apart if there is abuse?
If your spouse becomes abusive it might be a bad sign. The abuse can be physical, emotional, or financial. Be sure you protect yourself and your children if the marriage results in a divorce with the domestic violence restraining order. If your spouse abusive and you have children  you might be able to file an emergency child custody
If you live in Huntington Beach or any other city in Orange County,, there is helpful Huntington Beach domestic Violence information and resources
If you are a victim or domestic violence or abuse we suggest you secretly speak to an attorney on the matter. If you are in Orange County California, we may be able to help you with your case.
Is my marriage falling apart because of Different cultures, religions, and Values?
If you and your spouse share many different ideologies, philosophies, beliefs, ideas, or religions,  you and your spouse may run into conflict on how many things should be done in your family. This can especially be the case if you have children and both spouses have different desires for how the children should be raised.
Is my marriage falling apart because of sudden changes in lifestyle or circumstances?
Often if something sudden happens such as if you lose a job or win the lottery they may not adapt well to it. A loss of a job may cause you to be in impoverished conditions and you may get in conflicts with each other and make your life worse. Winning the lottery and similar events which give to the spouse sudden massive amounts of money have been known to corrupt people, making them unhappy. People who get lots of money may turn up worse and maybe unhappy and make people around them unhappy. Conflicts like these can make your marriage worse.
Is my marriage falling apart if there is a Lack of Freedom, including Financial Freedom?
If your spouse is too controlling a personality regarding the details of your life, the lack of freedom could be a sign of your marriage is fallowing apart. Financial issues may make life in general miserable. If someone is controlling how you are spending money that would be even more difficult. If you and your spouse are constantly running into disagreements with how money should be spent, there is a sign that your marriage might be following apart.
Is my marriage falling apart because there is a Lack of Good Communication?
Poor communication can lead to many of the issues we've looked at. Some above-mentioned problems potentially could be solved if there is proper communication with your spouse and commitment on both sides to keep the marriage.
What if you are uncomfortable around your spouse and feel better without his/her presence? What if you guys fight most of the time? There are so many factors indicating " Is my marriage falling apart? You can either try to compromise whatever you can tolerate or change your spouse's behaviour or consider the divorce and start a new chapter in your life. 
If your marriage is unsavable, LegalDocsA2Z can help you to complete your divorce fast, efficient  and cheap. call 714-390-3766